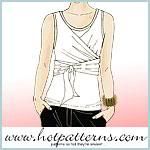 I wear alot of tank tops, either by themselves or layered underneath another shirt, and as a Tank Top Expert I can say that the Hot Patterns All Wrapped Up Tank is a Very Cool Pattern. That's my first impression, anyway, which is why I chose it for my next project. I like the rather stylish wrapped ties and I always prefer racerback to plain back tank tops.
The
All Wrapped Up Tank
is a free pattern from Hot Patterns, available for download from
Fabric.com
. Fabric.com actually has a whole bunch of
free patterns
that you can download, print, and assemble. If you've never used a pattern from download before, just remember: the most important thing is to keep the scale intact by printing the PDF files with "no scaling".
So, I'm sure what my pattern will be, but I still have to decide on a fabric. I have rayon/lycras, cotton jerseys, and even a couple of poly border prints which, if done right, could turn out pretty nice. While I'm thinking about it, I'll spend my time assembling the 30 sheets of printer paper into one big pattern page :-)