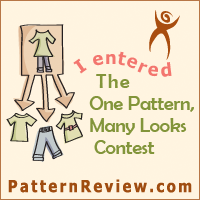 This is one of the (to me, anyway) more interesting of Pattern Review's contests: Take a pattern and make multiple garments without altering the actual structure of the pattern. This involves things like color blocking, piping, ruffles, decorative buttons, and other purely ornamental stuff.
Self drafted patterns are allowed, so I intend to use the pattern I drafted to make this dress. I am going to change the round neckline to a scoopneck and shorten the hemline to above the knee, but other than that, I will use this pattern just as it is. Well, okay, I'm also going to color block it in some places to get one of the "many looks," but that is allowed within the rules.
As for the different versions, I'm thinking I'll make the first one in black. Just a plain LBD with no frills. It'll be the one that you can compare all the others to.
One I'm going to color block in a waistband, another I will color block in some contrast pieces for illusional (is that a word? delusional is and it's kinda the same thing, right?) shaping. That means I'm going to make a dress that encourages anyone who sees me to believe that I actually have a waist, when I don't really. My waist is actually just a suggestion.
If I have time, I will probably make another in one of the pretty onion skin prints I ordered last week. If I like them. They haven't arrived yet, so there's still time for me to hate them with a passion.
And possibly another with lace sleeves. Because I just love lace. Doesn't everybody?
Three to five dresses in just the two weeks left in the contest sounds pretty ambitious, but the beauty of this pattern is that it really doesn't take that long, from cutting to hem. The longest part is going to be adjusting the pattern for the color blocking, but I have confidence that I can do that pretty quickly.