I love
Pattern Review.com
's contests. Not that I ever win. Ever. But there is something extra fun about sewing things with the companionship of others who also love sewing and who are also making things in the same general category. I guess this is why sew-a-longs are so popular as well.
The really nice thing about the PR contests is that the competition is friendly, rather than nasty or bitter or downright hostile as you may have seen in other places. Sure, we'd all like to win that $100 gift certificate to
FFC
. Sure, we'd all like to get that blog badge that says, "I won blah, blah, blah." But PRers don't let that get in the way of their friendliness (or at least civility) with other PR members. And they help each other, give advice, and offer encouragement. Which is awesome.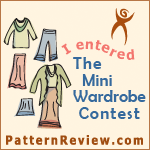 So this month's contest is the Mini Wardrobe Contest. Create four garments that can be mixed and matched to make four different outfits -- without adding any additional pieces.
I'm pretty sure I can make one piece a week and I think I would like to make one pencil skirt, one pants, one top, and either a vest or a jacket. I realize a jacket is a larger and more time consuming project that I may not have time for, but I like dreaming big -- and in color :o) Besides, I've already traced out the jacket pattern, and that always seems like the most time-consuming part.
Now that I think about it, I do have everything I need to make myself a wool pants/skirt/vest ensemble, which I've been wanting for a really long time. Fabric and patterns are already in my possession. I may need to make a trip to the store for notions, but those don't count :o) Hmmmm. I think I have a mission. Wish me luck.