Where has the time flown, that's what I'd like to know. It's time for another
Friday night sew-in
. Put on some music, turn on your favorite movie, or do whatever you do when you're ready for a marathon session of sewing.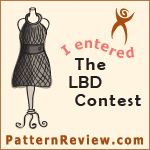 I'm going to play some
Oysterband
CDs (of which I have almost all of them) and get started on my little black dress for
Pattern Review's LBD contest
. I've never bothered to own a little black dress before because I've never really needed one. I still don't need one, but when has that ever stopped me before?
Fabric? check.
Pattern? check.
Black zipper? check
Black stockings? check
Cute black shoes? check
Can you wear
ruby slippers
with a little black dress?